Proven dependability since 1984!

The Energy Free Livestock Drinker is without a doubt the most rugged and dependable livestock drinker on the market. First Introduced in 1984, there are hundreds of drinkers 25+ years old in use today.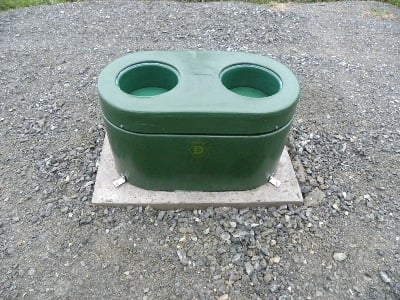 Model 4014 Double Hole
14 gallon approx. 57 lbs.
19" W x 19 ½" H x 34 ¾" L

Animal Capacity
60 Head Dairy
50 Horses
150 Head Beef
400 Sheep

Can be shipped UPS!
OUR MOST POPULAR MODEL
10 Reasons Why the Energy Free Drinker is the Most Innovative Drinker on the Market

1. Requires no energy to prevent freezing. No gas or electric wires to cause potential shock. Combination of drinking baffle and underground air temperatures ranging from 45 – 48 Degrees F, keeps drinker from freezing with very few animals drinking from it. Heavily insulated with high density urethane foam. For extreme winter conditions, electrical deicer can be used.

2. Can be used for all sizes of livestock. Thermacap takes almost no effort to tip enabling even the smallest of animals to drink from. Lower height of drinker also allows for easy access for smaller animals. From mature bulls and horses to calves, goats and lambs, the drinker is ideal for all types of livestock.

3. Design of drinking baffle and insulated Thermacap keeps cold out even when drinking. ENERGY FREE TO APPROXIMATELY –20 Degrees Below Zero.

4. Extremely durable. Made of rotational molded Polyethylene. Will not rot or rust. Rounded corners to ensure durability and safety.

5. Top quality parts. Stainless steel hardware (screws, bolts mounting brackets). Franklin float valve.

6. Virtually Maintenance Free. Aside from periodic cleaning, many drinkers have remained in use trouble free for over 20 years. Easy cleaning design.

7. Long warranty. 5 year warranty on drinker body. 2 year warranty on valve.

8. 30 Day Satisfaction Guarantee. If you are dissatisfied with product you can return to Ameriag for a full refund less shipping within 30 days of purchase.

9. Anti siphon valves used on all models. Will work under gravity flow or pressure water systems.

10. User friendly design allows for easy cleaning and service of drinker.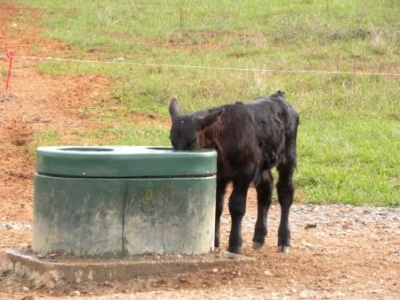 2 week old angus calf drinking. Unlike many drinkers on the market, livestock of all types and sizes can easily obtain water. From small lambs and sheep to mature bulls, the Energy Free Drinker is easy to use and maintain.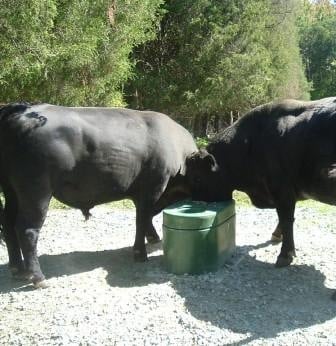 As shown in this photo, The Drinker works well with large animals such as these 2 mature Angus Bulls.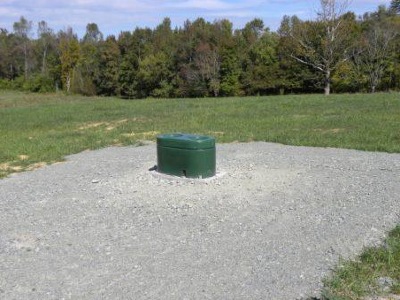 New Installation on 20' X 20' Pad. Natural Resource Conservation Service (NRCS Standards) 5" - 6 " of ABC / Crusher Run on Filter Fabric / Cow Carpet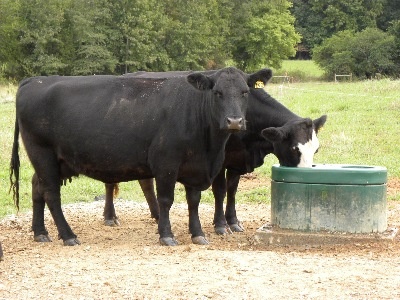 As the photos show below, the drinker works well for split fence applications. Drinker is also ideal for Rotational grazing applications